JAI Featured Artists/June 2022
Cathy Weiss and Randi Matushevitz
JAI Featured Artists
Cathy Weiss and Randi Matushevitz
June 2022
JAI Featured Artists
Cathy Weiss
Randi Matushevitz
June 2022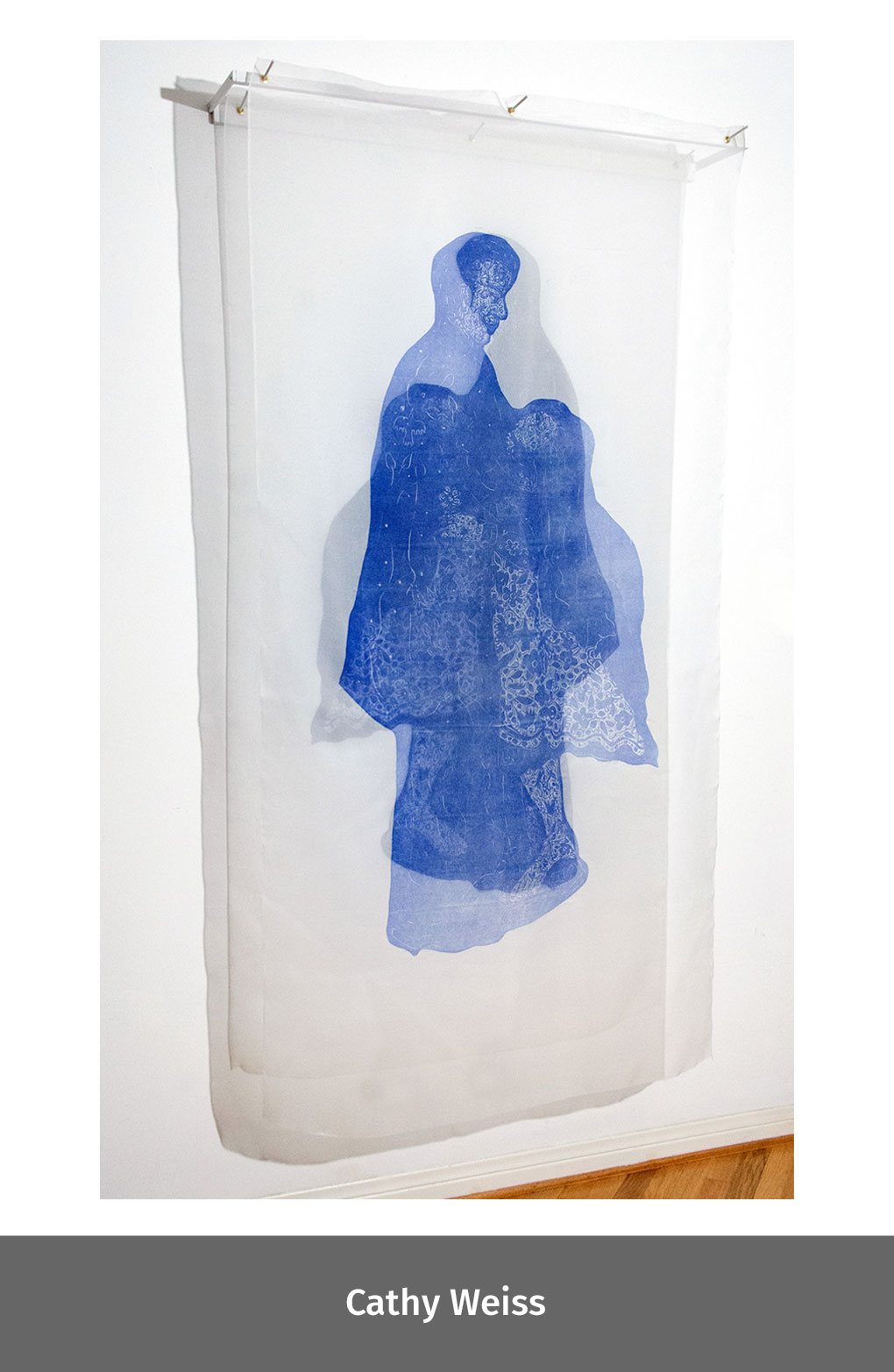 ​Dance with Me, 2022
woodcut print on silk, 79″ x 43.5″ x 9″
Los Angeles based artist, Cathy Weiss was born in NYC and raised in Los Angeles. She holds a BA in Art from the University of California, Santa Cruz and received a Fellowship in Printmaking from Pratt Institute for Graduate Studies in New York. Weiss has curated and organized many exhibitions, and her work has received numerous awards and has been exhibited and collected both nationally and abroad. Along with Weiss' many public and community projects, the artist is also well known for her large installation pieces often done in woodcut and mixed media.
My mark making tells stories, my own and others. Stories that speak to our humanity, stories that address issues that we have faced throughout history. Like in a Tel which consists of layers of civilizations holding ancient tales, each new block carries forth from the blocks before but something new is added. I mark my woodblock figures in the way we tattoo our bodies allowing my ideas to live on and continue into the next work. Transgenerational Epigenetic Inheritance, a form of memory that is passed down generationally informs my process. I integrate memory existing in our DNA, inherited from those who came before, and will live on in those who come after.
………………..
CathyWeissInk.com | @cathyweiss | Hiromi Paper Blog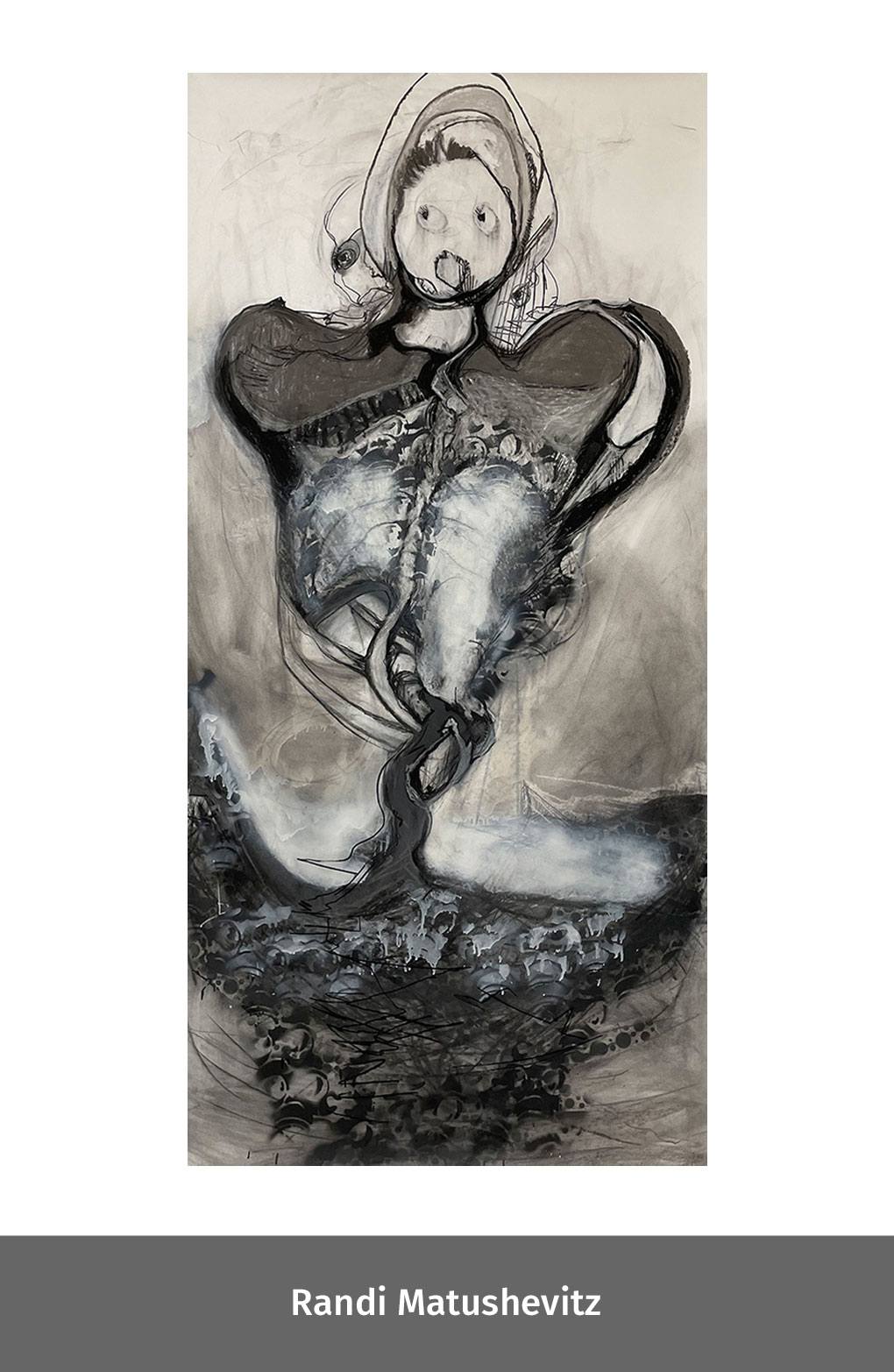 ​Grounded, 2021
charcoal, pastel, spray paint, acrylic, ink, on rives bfk, 72″ x 43″
Randi Matushevitz is an American multidisciplinary artist based in Los Angeles. Her installations, paintings, mixed media drawings, and videos have been exhibited and collected nationally and internationally. Her artwork is found in the permanent collections of the Museum of Art and History (MOAH), Lancaster, CA; Cleveland Clinic, Las Vegas; Las Vegas Art Museum at the Marjorie Barrick Museum of Art, University of Nevada, Las Vegas; The Brooklyn Art Library, Brooklyn, NY; and Enter Art Foundation, Berlin.
Matushevitz's artwork reflects the fragility of human connectivity. A figurative artist, her portraits, narratives and videos, illustrate how our point of view impacts our personal world experience. In a universal conversation that explores the commonality of uncertainty within the mania and calm surrounding daily life. The images are messy, murky layers of entangled marks creating a dense surface that mimics the human condition.
………………..
RandiMatushevitz.com | @randimatushevitzart
About JAI
Jewish Artists Initiative (JAI) is a Southern California organization committed to supporting Jewish artists and arts professionals. JAI aspires to be an agent of transformative change by organizing provocative exhibitions and thoughtful programs promoting diverse dialogue about Jewish identity and experiences. Founded in 2004, JAI remains committed to fostering Jewish culture in our community and beyond.
MISSION AND HISTORY
JAI was conceived by the Jewish Community Foundation of Los Angeles in 2004. It was originally in partnership with the University of Southern California Casden Institute and the USC Roski School of Art and Design. For many years we have been under the fiscal sponsorship of the Center for Jewish Culture and Creativity. Members include primarily artists, as well as curators and art historians based in Southern California. The artists go through a jurying process to be admitted as members.
We have collaborated with a great range of Southern California institutions including American Jewish University, Hebrew Union College, UCLA Hillel and USC Hillel as well as a variety of art galleries and public spaces. We have also worked and exhibited in institutions in other parts of the United States and Israel such as the Jewish Art Salon, Hebrew Union College, New York, the New York UJA and the Jerusalem Biennale.
JAI Executive Committee: Melinda Smith Altshuler, Bill Aron, Isaac Brynjegard-Bialik, President Georgia Freedman-Harvey, Anne Hromadka Greenwald, Gilah Yelin Hirsch, Randi Matushevitz, Hillel Smith, Debra Sokolow and Ruth Weisberg
How to Become a JAI Member: JAI welcomes applications for membership from artists and arts professionals. For how to apply and to view the selection criteria click on Join JAI in the navigation links at the top or bottom of any page. Questions: contact JAI at admin@jaisocal.org