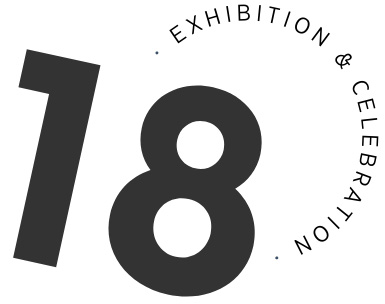 Many ancestral traditions place particular spiritual significance on numbers. Numbers like 12 (the signs of the Zodiac), 5 (the alchemical elements), and 7 (the days of Creation) have mystical value in many traditions. Some indigenous North American cultures prefer even numbers in their patterns and designs. Chinese culture sees the number 4 as unlucky and may skip this floor in building plans. American buildings often lack the 13th floor for the same reason.
Jews have a long fascination with numbers and their symbolism. According to an ancient system of spiritual mathematics called gematria, each Hebrew letter is assigned a corresponding number value. By adding and combining letters, one can discover supposedly coded messages within our sacred texts. Perhaps the most widely known example of gematria is the attention paid to the number 18, corresponding to the 2 letters that make up the word chai, or life.
JAI is now in its 18th year. To celebrate, we are inviting you to submit to our All Members exhibition titled, 18: Exhibition & Celebration. We are excited to honor all JAI has brought to Jewish Southern California culture. In addition, we want to take this opportunity to highlight what JAI means to our membership.
SUBMISSION INSTRUCTIONS: Please create a work where at least one of the piece's dimensions is 18 inches. Consider how the number 18, chai, speaks to you. We are accepting 36 seconds for videos and 72 seconds for sound. (Both are multiples of 18.)
Please include a statement about what the number 18 means to you. For example, do you have a lucky number, or do you believe in numerical omens? What are your hopes? How does good fortune manifest in your life? What special JAI memories and times have you shared with us over the last 18 years?
………………….
You must have paid your 2022 JAI Dues to be eligible to participate in this exhibition. Click here to pay dues or check your status.
Calendar and Information:
Exhibition Venue: USC Hillel Art Gallery
Exhibition Dates: September 1st-October 16th
Delivery and Pick Up: To be determined
Opening Reception and Celebration: September 18th
Please send a jpeg of the work you will be exhibiting and your statement to cathyweissink@gmail.com by August 1st. Use the Subject Line: JAI 18 Exhibition Submission.
NOTE: Unframed work is allowed but must be ready to install and include a signed waiver before installation. JAI will not be responsible for loss or damage during the show; thus, we suggest you insure your artwork.
JAI Featured Artist/July 2022
Sandy Bleifer
JAI Featured Artist
Sandy Bleifer
July 2022
JAI Featured Artist
Sandy Bleifer
July 2022
The Times: Kimono #8 – Dress Code (front and back)
………………….
As a longtime committed social activist, I focus my work on social justice, urban revitalization, and our current environmental crisis. My work has evolved from an inquiry into the nature of my materials. Paper has provided an ongoing exploration for me: its outer fragility and its inner strength, its apparent simplicity and its structural complexity, its capacity for both hardness and softness intrigue me. Instead of using paper simply as the surface to receive an image, I have developed a vocabulary of manipulation techniques such as tearing, folding, layering, peeling, crushing, etc., which enable me to utilize paper as a kind of drawing and sculpting material.
………………….
I find I tend to work in series. Even in the early '70s when all my work was silkscreened (a medium that lends itself to identical multiples), I sought to make each print unique through color sequencing, collage and other techniques. Even now, I embark on series based on the potential meanings of elements like news photographs, plastic, leaves, etc. when placed in new contexts and juxtaposed with papers of many kinds. Some of these series take 3 to 4 years to play out.
I explored the common ground shared by flowers and paper along with the juxtaposition of the perfection sought in the art of Japanese flower arranging in my Ikebana series. I received a collection of dried leaves that became actors in real life dramas such as black holes and forest fires. The current "The Times" series (referring to LA and NY Times photographs I collect) is comprised of kimono shaped paper sculptures placing memorable news photos into painted papers to create a "world" in which they will be remembered.
………………..
About JAI
Jewish Artists Initiative (JAI) is a Southern California organization committed to supporting Jewish artists and arts professionals. JAI aspires to be an agent of transformative change by organizing provocative exhibitions and thoughtful programs promoting diverse dialogue about Jewish identity and experiences. Founded in 2004, JAI remains committed to fostering Jewish culture in our community and beyond.
MISSION AND HISTORY
JAI was conceived by the Jewish Community Foundation of Los Angeles in 2004. It was originally in partnership with the University of Southern California Casden Institute and the USC Roski School of Art and Design. For many years we have been under the fiscal sponsorship of the Center for Jewish Culture and Creativity. Members include primarily artists, as well as curators and art historians based in Southern California. The artists go through a jurying process to be admitted as members.
We have collaborated with a great range of Southern California institutions including American Jewish University, Hebrew Union College, UCLA Hillel and USC Hillel as well as a variety of art galleries and public spaces. We have also worked and exhibited in institutions in other parts of the United States and Israel such as the Jewish Art Salon, Hebrew Union College, New York, the New York UJA and the Jerusalem Biennale.
JAI Executive Committee: Melinda Smith Altshuler, Bill Aron, Isaac Brynjegard-Bialik, President Georgia Freedman-Harvey, Anne Hromadka Greenwald, Gilah Yelin Hirsch, Randi Matushevitz, Hillel Smith, Debra Sokolow and Ruth Weisberg
How to Become a JAI Member: JAI welcomes applications for membership from artists and arts professionals. For how to apply and to view the selection criteria click on Join JAI in the navigation links at the top or bottom of any page. Questions: contact JAI at admin@jaisocal.org