JAI Featured Member/September 2023
Georgia Freedman-Harvey
………………….
JAI Featured Member
Georgia Freedman-Harvey
September 2023
JAI Featured Member
Georgia Freedman-Harvey
September 2023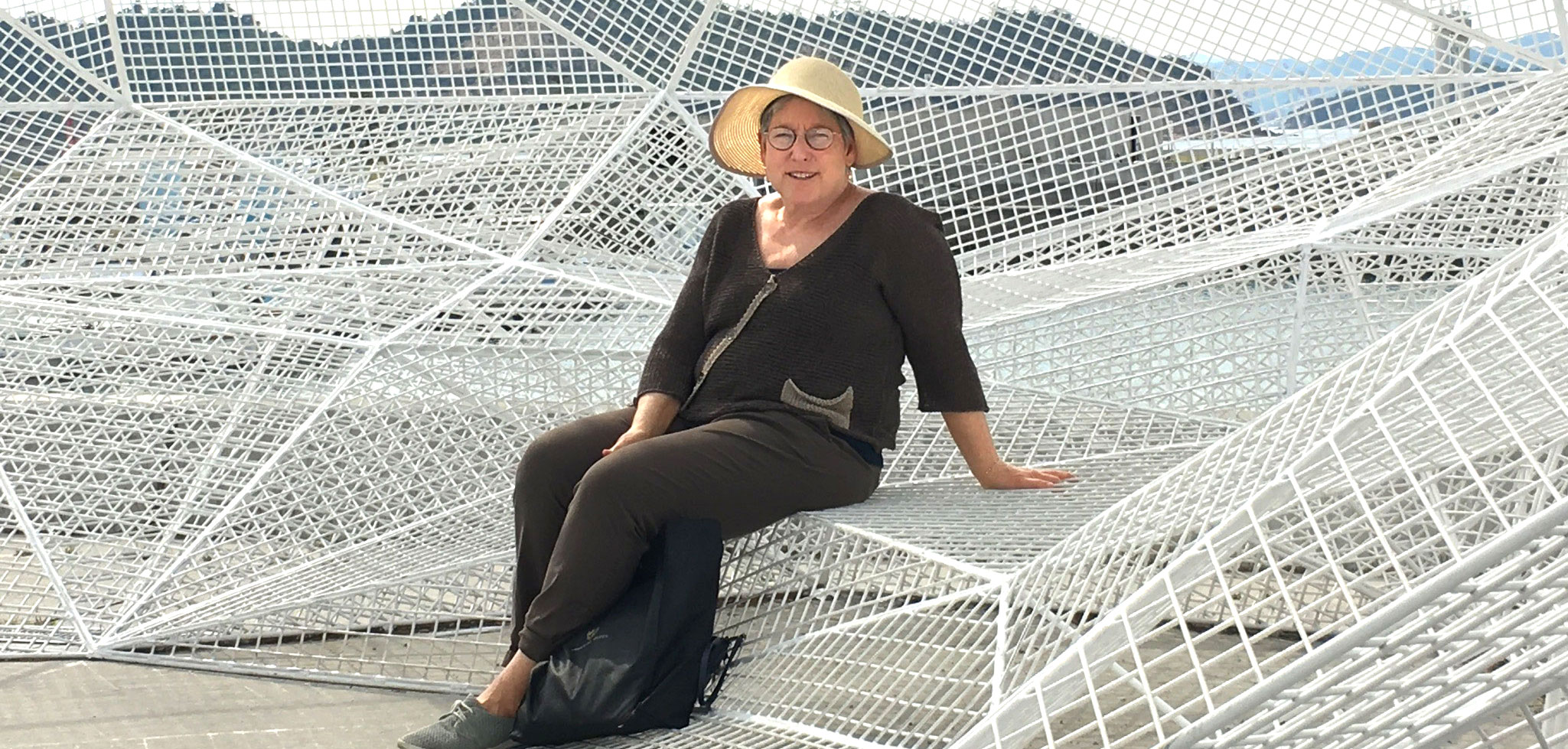 At the Naoshima Pavilion, Naoshima, Japan (art island)
………………….
I have been fortunate to work in the arts and create artwork most of my life. I began working in a museum right after getting my degree, and I went onto other museums, cultural arts centers, and college galleries as a curator/director, and to getting my masters focusing my research on museum audiences. Most of you know me for my work as a curator, and art advisor to art collections, and for artists and artist estates, but my formal training was in glass blowing and museum studies. From that I evolved to work in paper and fiber arts. Through my work with JAI, I was co-curator for two of our entries in the Jerusalem Biennale. My curating has also taken me to Vienna and other locations. Just before the pandemic I was selected to curate an exhibit in India, and hopefully it will happen in the future. In addition to being the curator long term at several institutions, I have been a guest curator at many places, including most recently the Holocaust Museum, Los Angeles, and the Carolyn Campagna Kleefeld Contemporary Art Museum at CSULB.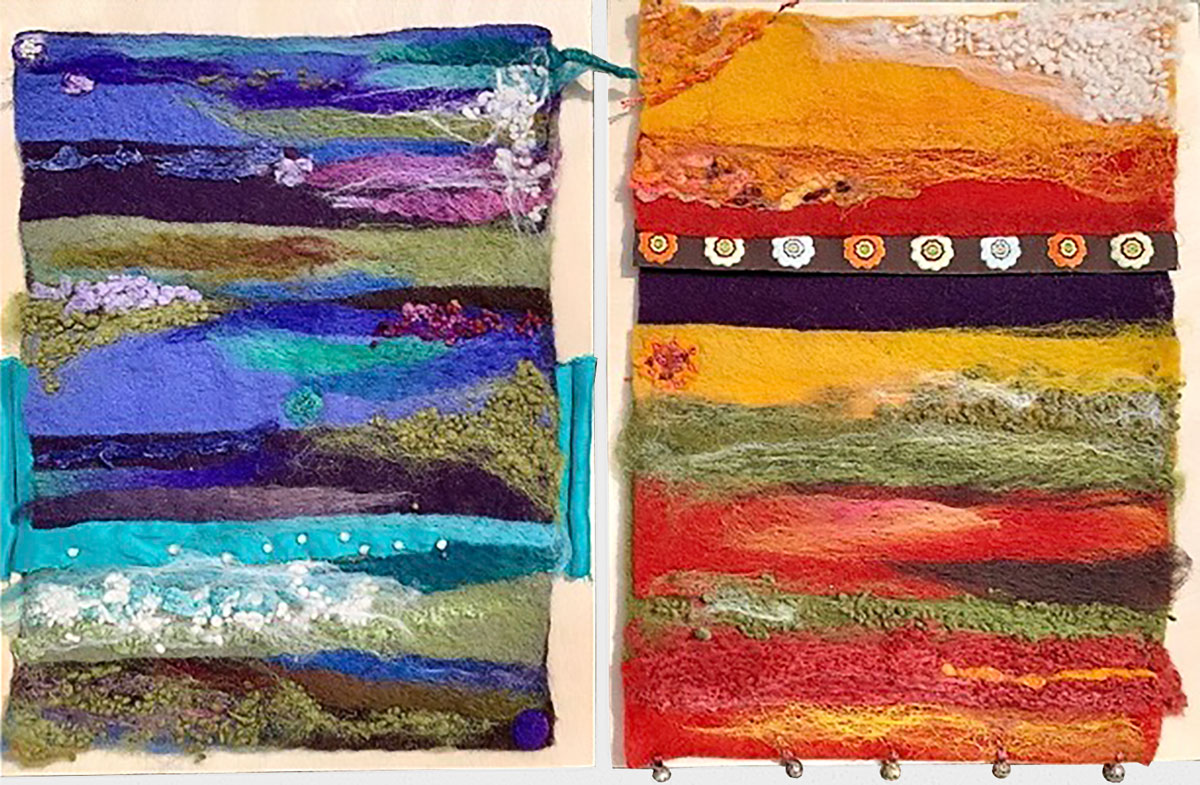 NIGHT BECOMES DAY  |  DAY BECOMES NIGHT
Felted wool and mixed media
………………….
In addition to creating and showing my own artwork, I have worked closely with New Directions for Veterans and CHOC hospital working with veterans and teens to use art for healing and storytelling. Two projects that I am centrally involved in are, HANDS ON: The Hamsa Exchange with the artist Vicki Reikes Fox. Our 10-year odyssey of exchanging handmade hamsot culminated in a traveling exhibition. Second, I started a non-profit, the MRH Fund for Artists, based on the idea that through supporting artists the community is enhanced, and creativity is supported, new ideas are imagined, cultivated, and experienced. The fund supports artists to help them expand their creative reach. Through my work in the arts, I can also include the expansion and rebuilding of a museum in Long Beach. I have recently been invited to carry out a similar project on the east coast, and I am looking forward in 2024, to the Holocaust memorial I designed being installed in the South Bay.
In being able to both express my creativity in my art making, and working in the arts, I have continually been involved with all that the arts have to offer.
About JAI
Jewish Artists Initiative (JAI) is a Southern California organization committed to supporting Jewish artists and arts professionals. JAI aspires to be an agent of transformative change by organizing provocative exhibitions and thoughtful programs promoting diverse dialogue about Jewish identity and experiences. Founded in 2004, JAI remains committed to fostering Jewish culture in our community and beyond.
MISSION AND HISTORY
JAI was conceived by the Jewish Community Foundation of Los Angeles in 2004. It was originally in partnership with the University of Southern California Casden Institute and the USC Roski School of Art and Design. For many years we have been under the fiscal sponsorship of the Center for Jewish Culture and Creativity. Members include primarily artists, as well as curators and art historians based in Southern California. The artists go through a jurying process to be admitted as members.
We have collaborated with a great range of Southern California institutions including American Jewish University, Hebrew Union College, UCLA Hillel and USC Hillel as well as a variety of art galleries and public spaces. We have also worked and exhibited in institutions in other parts of the United States and Israel such as the Jewish Art Salon, Hebrew Union College, New York, the New York UJA and the Jerusalem Biennale.
JAI BOARD MEMBERS
Bill Aron, Isaac Brynjegard-Bialik, Anne Hromadka Greenwald, Gilah Yelin Hirsch, Sagi Refael, Doni Silver Simons, Hillel Smith, Debra Sokolow, Ruth Weisberg, Cathy Weiss
How to Become a JAI Member: JAI welcomes applications for membership from artists and arts professionals. For how to apply and to view the selection criteria click on Join JAI in the navigation links at the top or bottom of any page. Questions: contact JAI at admin@jaisocal.org