JAI Featured Member/December 2023
Sandra Klein
………………….
JAI Featured Member
Sandra Klein
December 2023
JAI Featured Member
Sandra Klein
December 2023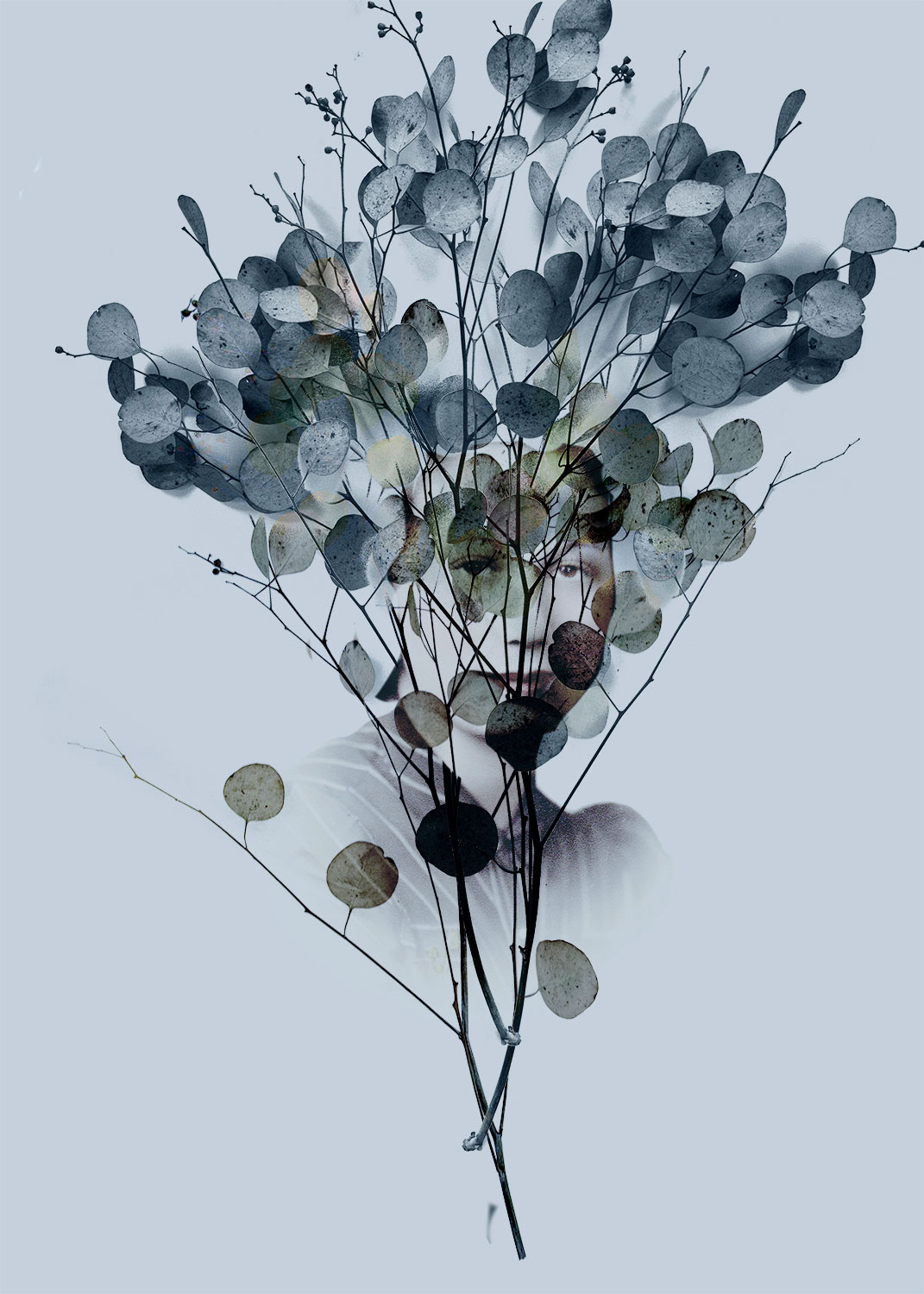 Artist Statement:
Mother Envy
I have always been fascinated by friends' and colleagues' Facebook posts on the loss of parents. They speak in glowing terms of the encouragement, the unconditional love and the positive relationships and shared experiences they've had with their mothers and fathers. I envy them their wonderful mothers and search back for one such experience. I have spent much time reflecting on my relationship with my mother Bernice.
Although she was beloved and admired by many, our relationship was difficult. Bernice was complicated and beautiful. Raised in fear, afraid and anxious, she often hid behind a mask of power, strength and criticism when dealing with her children. Many of my childhood struggles were brought back to the surface as I cared for her in her twilight years. Her criticism and anger towards me reappeared, and I saw a similarity in our past attempts to maintain our separate identities. The difference, of course, is that as a youth, I was the one fighting for my individuality, while now, as my mother was losing control of her mental and physical abilities, she fought for control of her very life. I started this series many years ago, creating still lives which I see as metaphors for our difficult relationship, using common objects and pins. But as her dementia increased, her anger towards me vanished and she actually appeared to love me for the first time in our relationship and so I tabled the series.
Now, as a way to complete the series, I include images of her in her youth, enmeshed with the decaying flowers from my garden and walks. These images reflect her public persona, for she was loved by many. Using two types of photographic images, still lives and composited images seems an honest, fairer portrait of her, a portrait I am more comfortable with.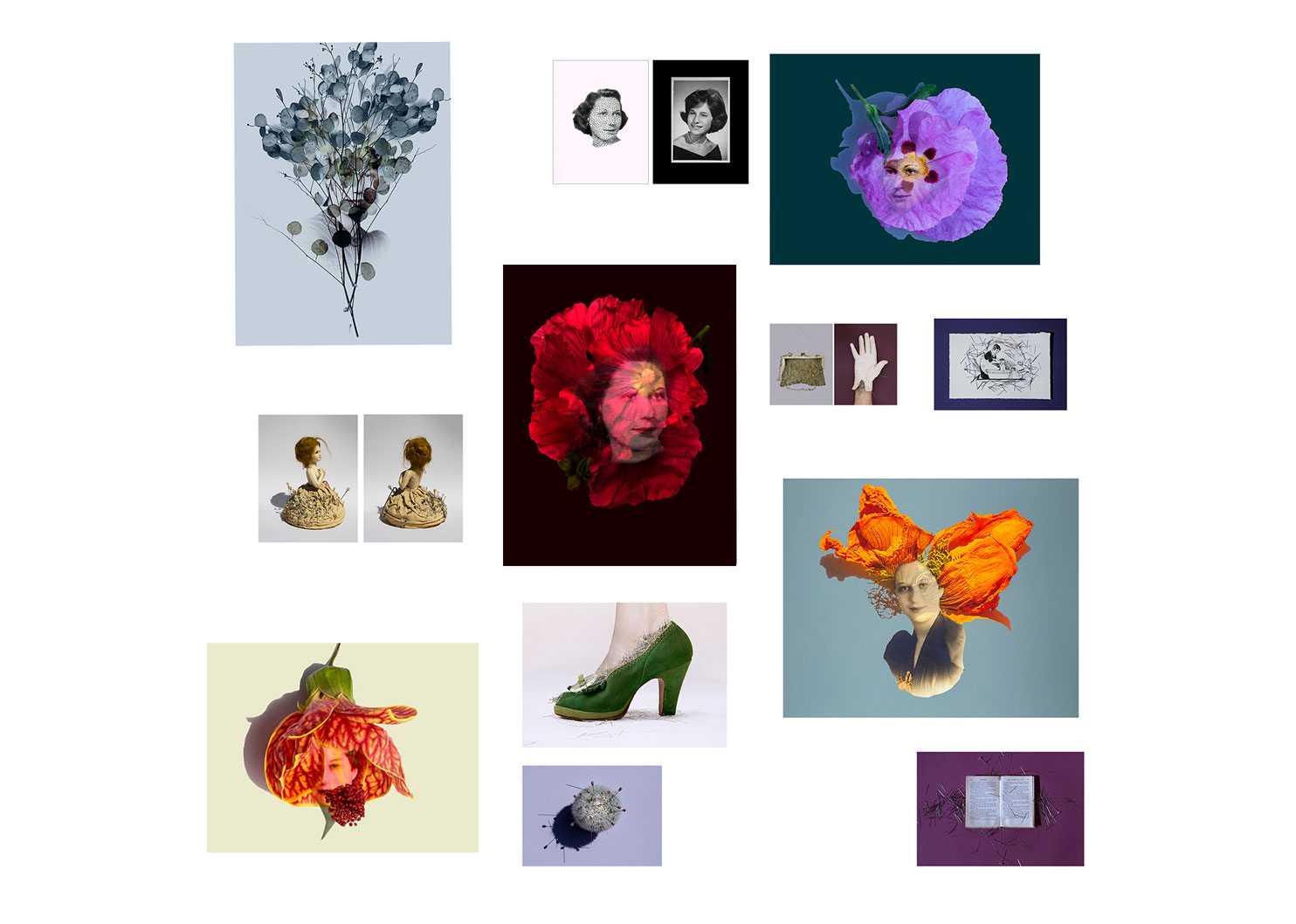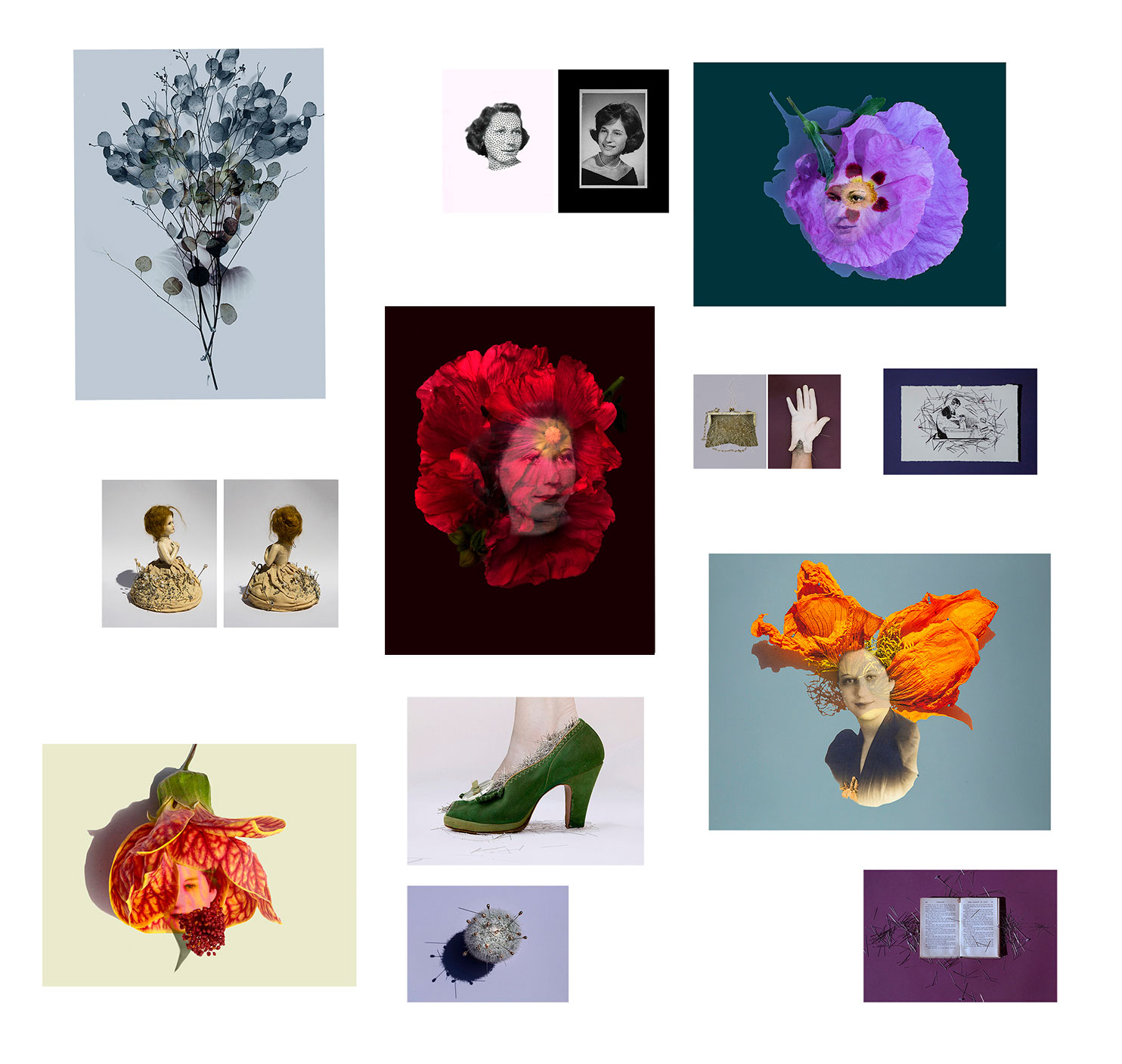 M O T H E R   E N V Y   S A L O N
Biography:
Sandra Klein is an artist whose images, whether captured with a camera or composited, portray a layered world which, though filled with anxiety and trauma, still is rich with joy. She was born in Elizabeth, New Jersey and received a BFA from Tyler School of Fine Art in Philadelphia, Pa and An MA in Printmaking from San Diego State University. Her images have been shown throughout the United States and Abroad and she has had one person shows at the Griffin Museum of Photography, both the Lishiu and Yixian Festivals in China, Studio Channel Islands, the A Smith Gallery in Texas and Photographic Gallery SMA in San Miguel Allende, Mexico. She was the recipient of the Lorser Feitelson Grant jointly with artist Betye Saar.
Her work has been featured on Lenscratch, The Boston Globe, A Photo Editor, What Will You Remember, Musee Magazine, all About Photo Magazine, Dek Unu, Beta Magazine and Diffusion Magazines, and is held in public and private collections.
She is represented by Photographic Gallery SMA in San Miguel de Allende, Mexico
………………..
All artworks are archival pigment prints, 2022, 20 x 15.5 or 15.5 x 20
Still lifes, 2020, 11.5 x 17
Portraits include sewn crystals
About JAI
Jewish Artists Initiative (JAI) is a Southern California organization committed to supporting Jewish artists and arts professionals. JAI aspires to be an agent of transformative change by organizing provocative exhibitions and thoughtful programs promoting diverse dialogue about Jewish identity and experiences. Founded in 2004, JAI remains committed to fostering Jewish culture in our community and beyond.
MISSION AND HISTORY
JAI was conceived by the Jewish Community Foundation of Los Angeles in 2004. It was originally in partnership with the University of Southern California Casden Institute and the USC Roski School of Art and Design. For many years we have been under the fiscal sponsorship of the Center for Jewish Culture and Creativity. Members include primarily artists, as well as curators and art historians based in Southern California. The artists go through a jurying process to be admitted as members.
We have collaborated with a great range of Southern California institutions including American Jewish University, Hebrew Union College, UCLA Hillel and USC Hillel as well as a variety of art galleries and public spaces. We have also worked and exhibited in institutions in other parts of the United States and Israel such as the Jewish Art Salon, Hebrew Union College, New York, the New York UJA and the Jerusalem Biennale.
JAI BOARD MEMBERS
Bill Aron, Isaac Brynjegard-Bialik, Anne Hromadka Greenwald, Gilah Yelin Hirsch, Sagi Refael, Doni Silver Simons, Hillel Smith, Debra Sokolow, Ruth Weisberg, Cathy Weiss
How to Become a JAI Member: JAI welcomes applications for membership from artists and arts professionals. For how to apply and to view the selection criteria click on Join JAI in the navigation links at the top or bottom of any page. Questions: contact JAI at admin@jaisocal.org