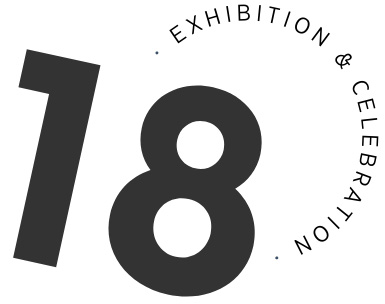 Many ancestral traditions place particular spiritual significance on numbers. Numbers like 12 (the signs of the Zodiac), 5 (the alchemical elements), and 7 (the days of Creation) have mystical value in many traditions. Some indigenous North American cultures prefer even numbers in their patterns and designs. Chinese culture sees the number 4 as unlucky and may skip this floor in building plans. American buildings often lack the 13th floor for the same reason.
Jews have a long fascination with numbers and their symbolism. According to an ancient system of spiritual mathematics called gematria, each Hebrew letter is assigned a corresponding number value. By adding and combining letters, one can discover supposedly coded messages within our sacred texts. Perhaps the most widely known example of gematria is the attention paid to the number 18, corresponding to the 2 letters that make up the word chai, or life.
Artworks from 22 JAI Members on Display in Celebration of Our 18th Year!
Melinda Smith Altshuler • Renee Amitai • Bill Aron • Joan Baral • Jodi Bonassi • Raphaele Cohen-Bacry • Judy Dekel • Bruria Finkel • Susan Gesundheit • Anita Getzler • Gail Glickmann • Roger Gordon • Gilah Yelin Hirsch • Nancy Goodman Lawrence • Linda Levy • Monica Marks • Randi Matushevitz • Debra Sokolow • Nancy Kay Turner • Ruth Weisberg • Cathy Weiss • Jana Zimmer
Exhibition Dates: September 1st thru October 16th, 2022
Opening Reception and Celebration: Sunday, September 18th, 3:00 – 5:00 p.m., Remarks at 4:00 p.m.
Exhibition Venue: USC Hillel Art Gallery, 3300 S. Hoover Blvd., Los Angeles
Street parking can be limited, please carpool/Uber or park across the street in the paid USC Village Lot: 3301 South Hoover Street
About JAI
Jewish Artists Initiative (JAI) is a Southern California organization committed to supporting Jewish artists and arts professionals. JAI aspires to be an agent of transformative change by organizing provocative exhibitions and thoughtful programs promoting diverse dialogue about Jewish identity and experiences. Founded in 2004, JAI remains committed to fostering Jewish culture in our community and beyond.
MISSION AND HISTORY
JAI was conceived by the Jewish Community Foundation of Los Angeles in 2004. It was originally in partnership with the University of Southern California Casden Institute and the USC Roski School of Art and Design. For many years we have been under the fiscal sponsorship of the Center for Jewish Culture and Creativity. Members include primarily artists, as well as curators and art historians based in Southern California. The artists go through a jurying process to be admitted as members.
We have collaborated with a great range of Southern California institutions including American Jewish University, Hebrew Union College, UCLA Hillel and USC Hillel as well as a variety of art galleries and public spaces. We have also worked and exhibited in institutions in other parts of the United States and Israel such as the Jewish Art Salon, Hebrew Union College, New York, the New York UJA and the Jerusalem Biennale.
JAI Executive Committee: Melinda Smith Altshuler, Bill Aron, Isaac Brynjegard-Bialik, President Georgia Freedman-Harvey, Anne Hromadka Greenwald, Gilah Yelin Hirsch, Randi Matushevitz, Hillel Smith, Debra Sokolow and Ruth Weisberg
How to Become a JAI Member: JAI welcomes applications for membership from artists and arts professionals. For how to apply and to view the selection criteria click on Join JAI in the navigation links at the top or bottom of any page. Questions: contact JAI at admin@jaisocal.org